New Metra Electric District Gray Line EMU Prototype
Prototype Model of New Metra Electric District Nippon-Sharyo Highliner EMU's Modified for a Rapid-Transit (CTA 'L') type of Service -- For the CTA Gray Line.
This is a Prototype Model of one of the new Nippon-Sharyo Metra Electric District EMU's Modified for use in a Rapid-Transit type operation. For economic reasons, half of the new MED EMU's will NOT be equipped with Washrooms.
Thusly -- the vacated Washroom bays around all four quadrants of the Center Doors (and End Doors - ala' NICTD's cars) could be equipped with Stanchions and Grab bars to accomodate Standing Passengers and Crowds -- Also to be utilized as a Staging Area for fast Boarding and Alighting of Passengers to significantly reduce Station Dwell Time in a Rapid-Transit type operation.
These modified Gallery "'L'" cars would be used only on the in-city Gray Line services, allowing the University Park Metra Suburban Trains to have a washroom in E V E R Y car -- instead of just "SOME" cars on each Metra Electric Suburban Train.
____________________________________________________________________________________________________
Cars with these modfications would cost MUCH LESS to Construct -- And to Operate in Service.
+ About 50 less seats to pay the Cost for -- And their weight to have to carry.
+ Non-Reversible Seats -- Less Wear, Tear, and Maintenance in an Urban Operating Environment.
+ No Traps (Ground-level Steps) -- Service Rd. access is available at all Gray Line service points for Emergencies, and there are all Floor-level Platforms in Service. Eliminating Traps results in a MUCH simpler and less costly Frame construction (Example: No Center-Post in Center Doors like on MED EMU's -- compared to NICTD's full-width Center Doors).
+ Easier and Cheaper full-length Frame construction -- Rather than the complicated Frames (broken at the Traps) required to meet and maintain Longitudinal FRA Class I Railroad Frame Buffer Strength Standards.
+ Deletion of the above Features significantly reduces the overall car weight, resulting in less Power Consumption - And Wear and Tear on Motors, Brakes, Bearings, etc., etc...; As well as each car's impact upon the Tracks.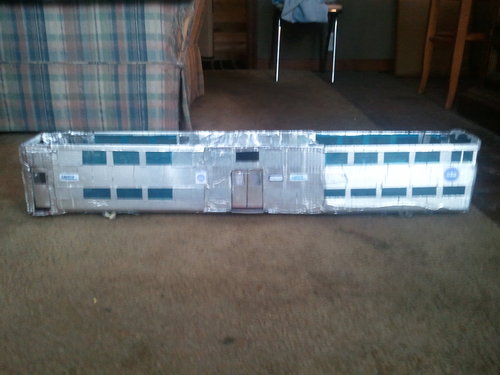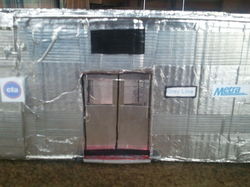 Center Doors with CTA and Metra Logos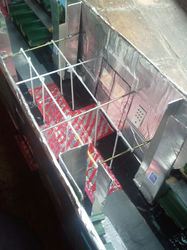 Stanchions and Hand Grips - Center Door Staging Area for Standing Passengers and Crowds
Stanchions and Hand Grips - End Door Staging Area (like NICTD's EMUs)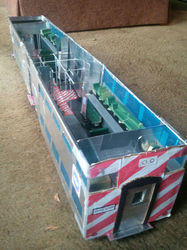 Metra Electric District New Highliner EMU Interior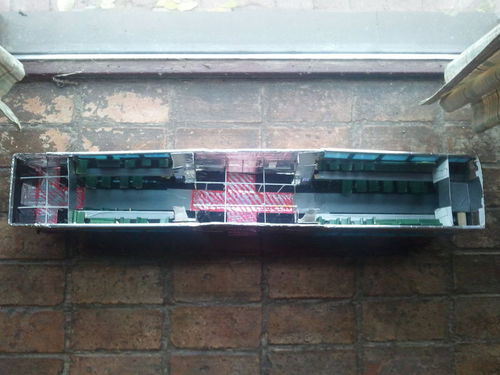 Highliner Model from Above - Notice Passenger Staging Areas at Center and End Doors -- And Red Striping to delineate Signed Walkways to be Kept Clear.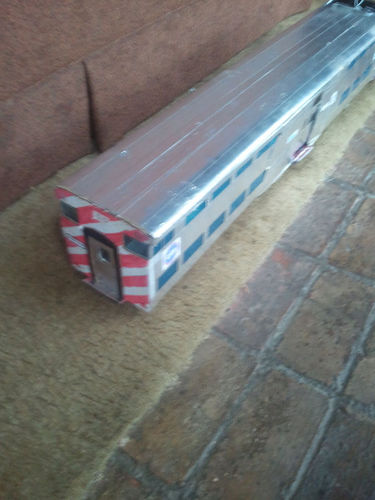 Metra Electric District New Highliner EMU